Bask in Your Inner Beauty
Release the inner YOU.
With the help of our noninvasive beauty products and treatments, we help you feel more comfortable and confident in your own skin and address dry eye symptoms.
Find out how Dr. Bussey and her team at MB Optometry are helping people like you delight in their natural beauty. All you have to do is book an appointment, and our team will be happy to handle the rest.
A Rejuvenating Experience Awaits
Our beauty services are designed from the ground up to keep you comfortable while we address common aesthetic concerns like:
Wrinkles
Age spots
Fine lines
Sun damage
Vascular lesions
And more
So come in, relax, and let our team provide you with rejuvenating strategies to improve the overall look and feel of your skin.
Forma-I Radiofrequency
Forma-I radiofrequency (RF) is a non-invasive skin rejuvenation treatment that uses radio frequency energy to stimulate collagen production in the skin. At MB Optometry, we can use it to address aesthetic concerns around the neck, face, and eyes.
It works by applying radiofrequency waves to the area being treated, which then heats up the tissue and causes it to contract. This promotes increased blood circulation and collagen growth, resulting in smoother and more youthful looking skin.
Though you might experience some redness around the treated areas for a few hours after your appointment, there is no downtime to this treatment! Get back to the things that matter most and love the skin you're in.
RF technology is also a fantastic way to treat and manage dry eye symptoms. Learn more when you visit our Dry Eye Treatment page today!
Before & After RF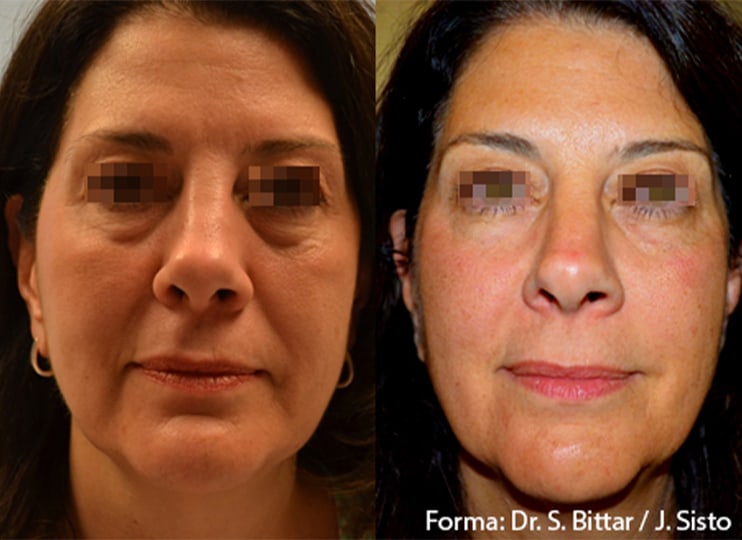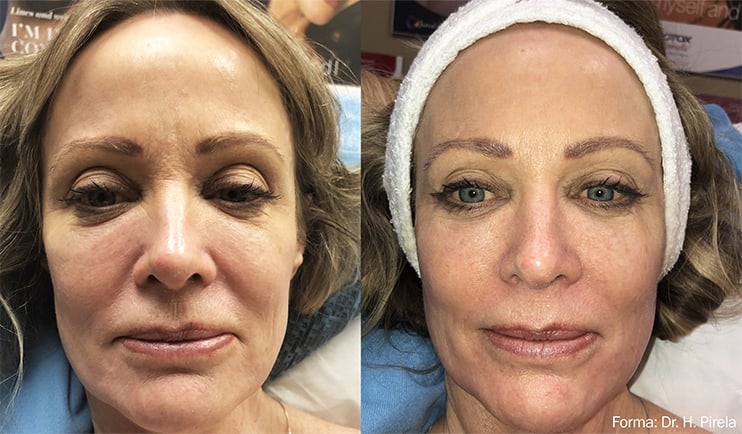 Lumecca IPL Therapy
Lumecca intense pulsed-light (IPL) therapy is a common technique for addressing a range of aesthetic concerns, including sun damage, freckles, age spots, and rosacea.
During treatment, we place the Lumecca lPL device on areas of your skin where you might have one or multiple aesthetic concerns. The technology then delivers numerous light wavelengths subsequently absorbed by your skin pigment, transforming it into heat that addresses your aesthetic concern. In most cases, though, patients typically need four to eight treatment sessions to achieve the results they're looking for.
You might experience a sensation similar to a rubber band snapping against your skin during the treatment. However, this is completely normal to the process and is not a cause for concern.
You might also experience some slight redness and tenderness for a few days after your treatment, but these should subside in time and leave your skin looking healthier and revitalized.
If you're struggling with dry eye, we might recommend IPL therapy to help you achieve the eye comfort you deserve. Please visit our Dry Eye Treatment page to learn more!
Before & After IPL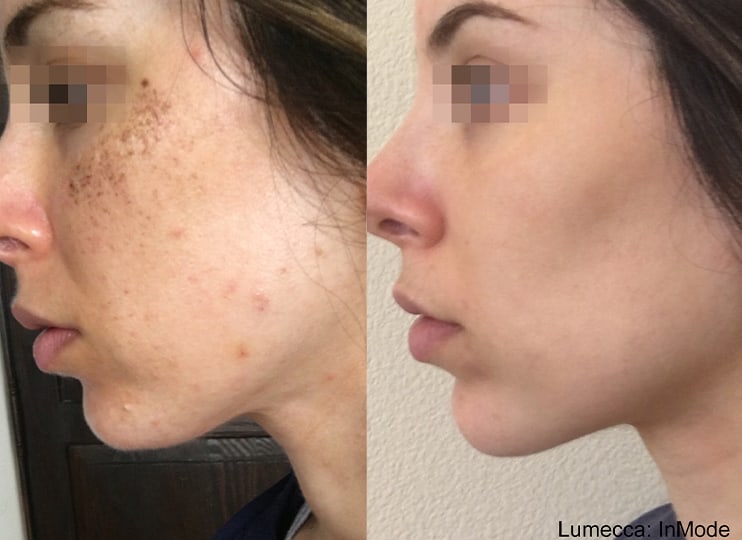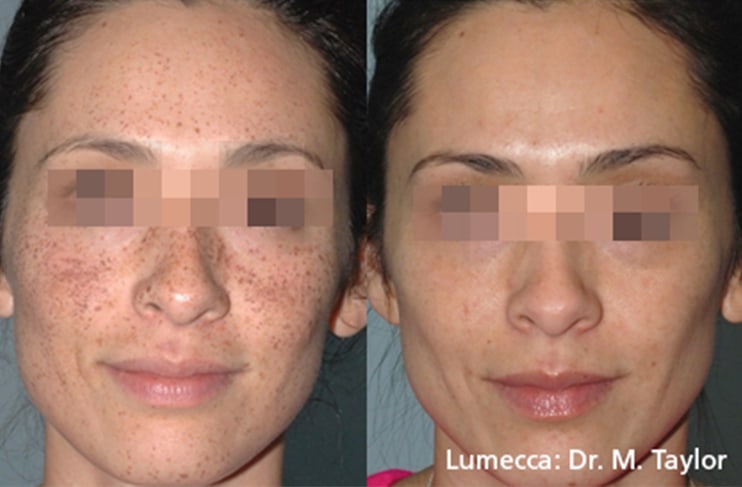 Our Aesthetic Products
MB Optometry is also proud to carry several aesthetic products you can use at home to help unlock and preserve a younger, more vibrant you.
Please visit us today to learn more about our line of cosmetic products.
AlumierMD
AlumierMD is a true, professionally dispensed medical-grade skincare brand dedicated to the latest advancements in clean science, delivering therapeutic outcomes for patients presenting an array of skin conditions and concerns.
Twenty/Twenty Beauty
Twenty/Twenty is a collection of makeup products designed by a board-certified ophthalmologist to help enhance the natural beauty of your eyes while keeping them healthy. They are beneficial for everyone, especially for those with sensitive or dry eyes.
Find Out How We Can Help Today
There's more to you than meets the eye. Find out how our beauty and aesthetic treatments can help enhance your natural beauty when you book an appointment today.
Book Appointment
Visit Our Location
Find us on Provincial Road, right next to our sister practice, Sports Vision Windsor.
Our Address
1350 Provincial Rd.

Windsor

,

ON

N8W 5W1
Hours of Operation
Monday

:

10:00 AM

–

6:00 PM

Tuesday

:

11:00 AM

–

4:00 PM

Wednesday

:

10:00 AM

–

6:00 PM

Thursday

:

12:00 PM

–

5:00 PM

Friday

:

9:00 AM

–

5:00 PM

Saturday

:

By Appointment

Sunday

:

Closed
Book Appointment
Our Brands
Discover frames that complement your style, capture your essence, and accentuate everything that makes you unique.
Whether you're simply elevating your look or looking to make a statement, we have the perfect pair of frames to make it happen.